Thom Brooks is an award-winning author, columnist, policy advisor and public speaker.  He appears frequently on television, radio and in print media discussing immigration & citizenship, Brexit, British politics, punishment & sentencing, US politics and other topics as a highly sought after commentator and expert. His general research interests are in ethics, law and public policy.
Brooks has 900+ media appearances (see list of 2016 & 2017 appearances here) on BBC One, BBC Two ('Newsnight'), BBC News, BBC World Service, CNN, ITV, Channel 5, Sky News, Al Jazeera, ABC News 24, Deutsche Welle, France 24, RT, WTNH (ABC), BBC Radio 4 (with Andrew Marr), BBC 5 Live, The Economist, Money Week and all major UK newspapers and many others including the New York Times, Wall Street Journal and Washington Post. He has co-hosted programmes on immigration as well as British and American politics.  Brooks writes columns for Daily Telegraph, The Independent, The Times, Sunday Express, Fabian Review, Huffington Post, LabourList, New Statesman, Northern Echo and others. He has been interviewed by Adam Boulton, Colin Brazier, Kay Burley, Bill Dod, Anna Jones, Eddie Mair, Andrew Marr, Maxine Mawhinney, Dermot Murnaghan, Beverley O'Connor, Francois Pickard, John Simpson, Jeremy Thompson and  Andrew Wilson among others – and debated George Galloway and Toby Young.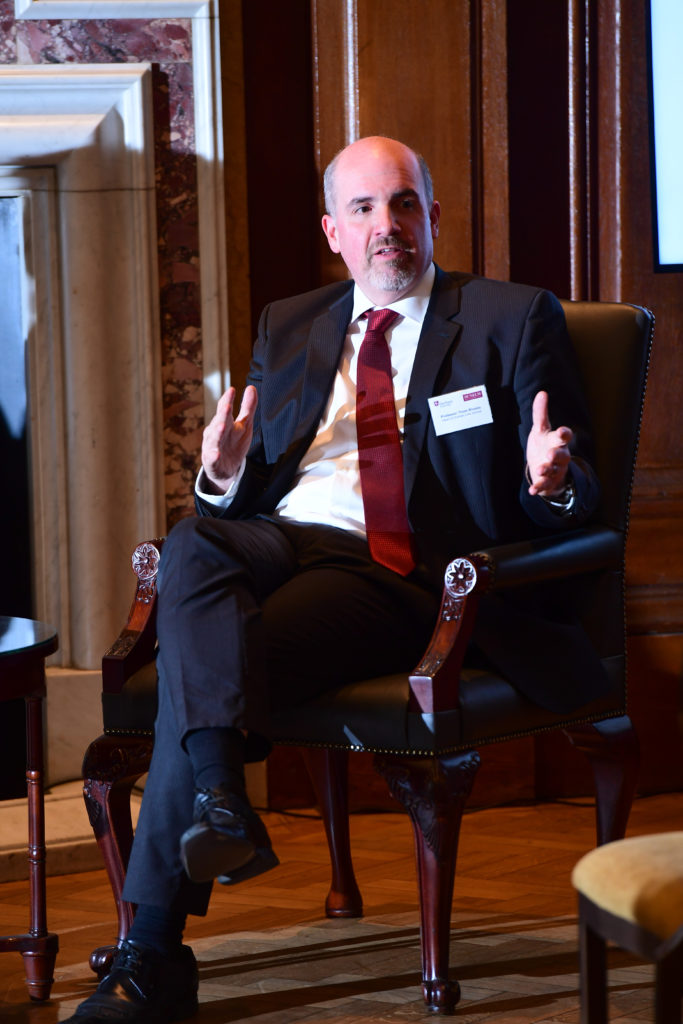 As inaugural Dean of Durham Law School at Durham University, he is leading the biggest growth in the School's 50 year history increasing academic staff from 42 to 75+ over the next few years – building new critical mass in key areas, improving our research capacities, reducing our staff-student ratio and retaining the small group tutorial and seminar teaching at the heart of our student experience. Durham Law ranked 3rd in the UK in the most recent Research Excellence Framework. In 2017, Durham Law School achieved its best ever results reaching 40th in QS World Rankings and 93% overall satisfaction in the National Student Survey. Durham University is the third oldest university in England and situated in a UNESCO World Heritage Site – Durham Castle is one of the university's colleges. Brooks has stood in for the Vice-Chancellor representing Durham University abroad and serves on several senior working groups and committees covering workload models, an effectiveness review of academic boards of studies, a review into academic administrative workload and several senior appointment panels. Brooks chairs a University-wide working group on non-staff budget allocations.
Brooks is an immigration law and policy specialist with wide-ranging expertise. He is the leading expert on Britain's the Life in the UK citizenship test and the author of the only comprehensive report examining it (brief, report, video). This is frequently highlighted in Parliamentary debates and noted in the media worldwide. His latest book is Becoming British and published last year by Biteback. A Labour Party member and adviser, Brooks advocates a number of policies, including: the need for an Advisory Group on citizenship and immigration, Migration Impacts Reduction Fund, revised citizenship test and a focus on impacts instead of net migration targets — much of which made the well received 2017 General Election manifesto. Brooks contributed to the All-Party Parliamentary Group on Social Integration's report into the integration of immigrants, especially on issues of EU free movement restrictions, improving the UK citizenship test and integration strategy.
He has developed innovative work on punishment and restorative justice, including his award winning book Punishment (2012) launched in the Houses of Parliament that develops a new theory — the "unified theory" of punishment — identified by Research Councils UK as one of the top 100 Big Ideas for the Future in British universities. Brooks has pioneered a new "punitive restoration" approach to better embed restorative justice into the criminal justice system. His research on capital punishment is quoted approvingly by the Connecticut Supreme Court in support of the "watershed" case State v. Santiago (Santiago II), 318 Conn. 1, 105 (2015) abolishing the death penalty in his native state of Connecticut. This is now before the California Supreme Court in State v. Steskal challenging the constitutionality of capital punishment in that state. Brooks was a member of the Crown Prosecution Service (CPS) North East Community Involvement Panel. Brooks's work on jury trials is cited in U.S. v Polizzi (E.D.N.Y. 2008).
Brooks is active in the UK's Labour Party and British politics. He is quoted in Labour's policy commission that led to its 2015 campaign manifesto and he advises on criminal justice policy, immigration policy and other areas since calling for key changes accepted in Labour's 2017 election manifesto rejecting arbitrary targets, reinstating a migration impacts fund, launching an evidence-based review of existing immigration policies and more action on refugees. Brooks was communications lead for Phil Wilson MP and the Sedgefield Constituency Labour Party in Sedgefield, a seat previously held by former Prime Minister Tony Blair, working on two successful re-election campaigns in 2015 and 2017 where Labour's share of the vote increased each time.
Brooks is one of the UK's top commentators on Brexit playing key parts in the debate from its start. In a public consultation on the EU Referendum wording, Brooks argued that it should be changed to remove bias and ensure consistency with recent constitutional-related referenda. The Electoral Commission agreed and quotes Brooks in support of this change in their final report which was accepted by the government and approved by Parliament. Brooks is one of the leading critics of the government's strategy for Brexit raising serious doubts about whether Brexit is necessary to achieve immigration targets in a column for The Times and whether Brexit will lead to any substantial change – his views are widely covered by the national and international media. Brooks was the first to point out that the recent drop in net migration was not a policy success for government, but driven by a weak economy and uncertainty over Brexit – with an increasing number of British citizens choosing to leave the UK helping fuel lower migration figures.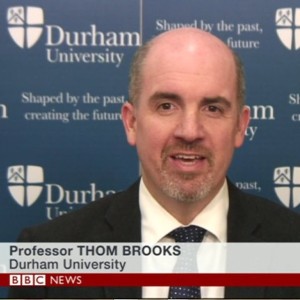 Brooks is a Fellow of the Academy of Social Science (FAcSS), the Royal Historical Society (FRHisS), the Royal Society of Arts (FRSA) and the Higher Education Academy (FHEA). He was invited for inclusion in Debrett's People of Today for its 2016 edition. He won a Faculty Award for Outstanding Contribution to Media from Durham University in 2013 and Lecturer of the Year for his faculty from Durham University's Student Union in 2014, Law Teacher of the Year from Durham Law School in 2015, Durham University's Excellence in Learning and Teaching Award in 2016, runner-up for the Inspirational Academic Award from Durham Students' Union and shortlisted for Law Teacher of the Year from the Northern Law Awards in 2015. His book Punishment was named 'Book of the Month' by the European Sociological Association. Brooks is the recipient of the 2017 Distinguished Alumnus Award from Arizona State University's School of Politics and Global Studies.
Thom Brooks is Professor of Law and Government and the Dean at Durham Law School and an Associate Member in Department of Philosophy and Professor in School of Government and International Affairs at Durham University. He has held visiting appointments at the University of Oxford, University of St Andrews, Uppsala University and Yale Law School at Yale University. Brooks taught previously at Newcastle University.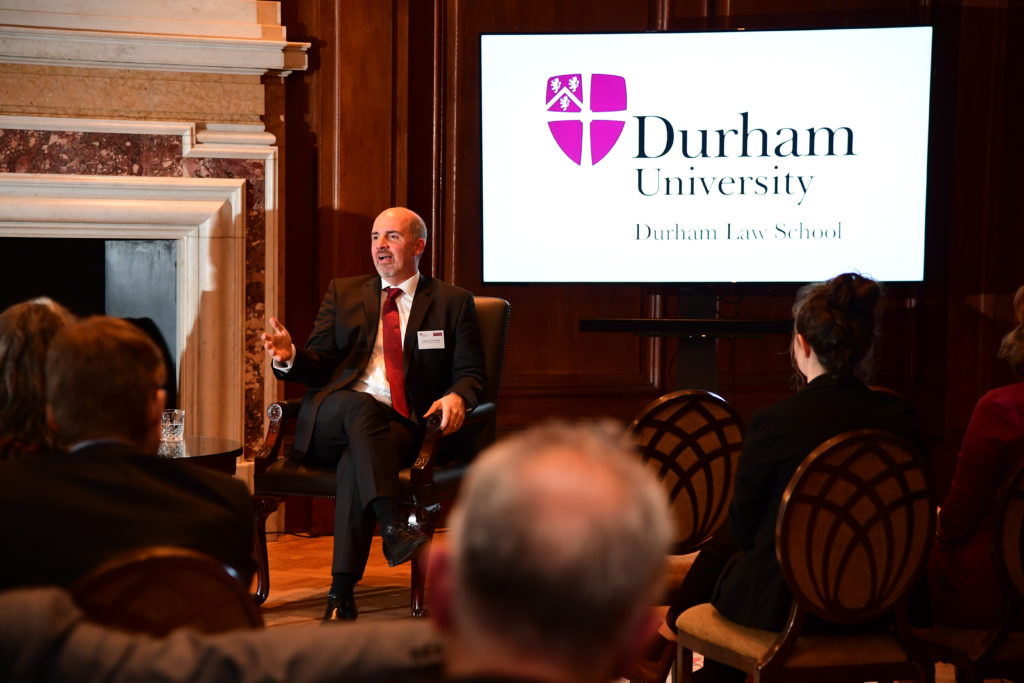 His publications cover topics including alcohol policy, behavioural economics and 'nudges', British politics, capabilities approach, citizenship, climate change, constitutional law, criminal law, criminal justice, democracy, international affairs, immigration, jury trial, just war theory, leadership, political strategy, restorative justice, sentencing, shame punishment and strategic communication. Brooks writes widely on philosophy, including historical figures (Plato, Kant, Hegel, British Idealism) and contemporary debates with special interests in jurisprudence and political philosophy and the work of Dworkin, Nussbaum, Rawls and Sen. His work has also been used to classify whiskey.
FOR MAKING BOOKINGS FOR AFTER DINNER SPEECHES OR PUBLIC LECTURES, PLEASE BOOK HERE.
CONTACT DETAILS:
Prof Thom Brooks AcSS FHEA FRHisS FRSA
Dean, Durham Law School
Durham University
Durham, DH1 3LE
United Kingdom